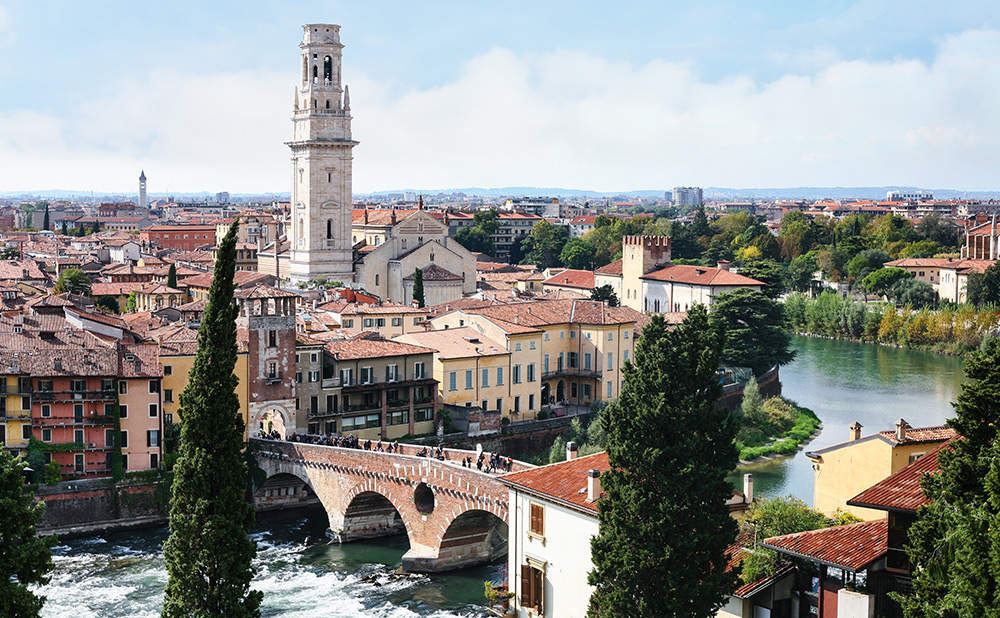 Fair City of Verona
One of the things about cigars which gives me great pleasure is the way they have become inextricably linked with my experiences, travels, the people I meet and the places I go.
This theme is explored in depth in my new book, Around The World In 80 Cigars – The Travels Of An Epicure, which is published by Red Door Press on September 12, 2019.
But there are countless more stories than these and I experienced a glorious example just recently on a flying visit to beautiful Verona.
Everything you could want from an Italian city short break; sun, hordes of cafes and
trattorias, gorgeous people, wonderful architecture and a friendly, can-do atmosphere that permeates this old town.
It's dominated in its centre by the Arena – one of the oldest buildings on the planet, having been built some 2,000 years ago to house Roman games. This ancient amphitheatre is still in regular use, but instead of gladiators and singularly one-sided battles between lions and Christians, tonight this wondrous feat of ancient architecture will be hosting Mark Knopfler and his band. And I'd nabbed two tickets for myself and my good wife and we had a couple of days to mooch and meditate.
Aperol Spritz is the beverage du jour in Verona; everyone glugs it. Wherever you look, there are handsome people filling small courtyards and spilling out onto pavements, complete with their giveaway day glow orange spritzes. If it was raining, you could for a second, imagine yourself in Glasgow watching kids with Irn Bru. But it's not, thank God.
Anyway, all of this is a roundabout way of telling you how my Verona cigar came to be stamped on my mind. There were more than one, of course, over the couple of days, but the one that will forever stick in my mind will be the one I enjoyed at a newly discovered little bar a stones throw from the Arena.
We found it minutes after the end of an unforgettable concert. As the incredible intensity of the Italian sun slowly waned and the old stone under our backsides began to cook us from below, Mark Knopfler and his team had led us on an extraordinary musical adventure, aided by an amazing festive atmosphere and the breathtaking sight of the full amphitheatre, lit by occasional beams of light and gazed upon by the stars above. It was a night I will never forget.
The little bar was tiny, and as I pulled a seat up and thirstily ordered not a Spritz, but a nice cold beer and a wine for my wife, I couldn't help but notice that there was Cuban paraphernalia everywhere – including old cigar boxes behind the counter.
To cut a long story short, it turns out that the owner was an ex-pat Cuban, and we began chatting as one does, about my recent visits to Cuba and then, cigars. I pulled out a Bolivar Royal Corona I had brought with me – a fine example in a rosado wrapper and springy to the touch. And then I pulled out another one – for the barman.
I've mentioned before how generous cigar people can be, and I've certainly benefited over the years from some incredible gifts from cigar friends. It's nice to be able to reciprocate every now and then.
The barman's face was a picture; he was thrilled and it so obviously reminded him a little of his beloved home. So, next thing I know, I'm standing at the bar with another cold, foaming beer and smoking a Cuban cigar with the owner. We got a few looks, but no-one said anything because they were more worried about getting a late beer after the concert then a little aromatic cigar smoke pervading the bar.
And so we bonded, chatted where we could and enjoyed an incredible cigar on an incredible night. That's what I love about cigars. They take you places.