Laurence Davis reports on his trip to the 2016 Habanos Festival
Having won the Silver Chaveta award presented by Hunters and Frankau, I was very lucky to be attending the Habanos Cigar Festival in Cuba. The lovely Clare Keating from Hunters and Frankau organised the entire trip and, before I knew it I was sitting in my seat in Virgin Atlantic Premium Economy ready for my forthcoming flight to Cuba.
Having pulled an all-nighter the night before my flight, as I settled into my seat and the cabin crew closed the doors, I fell asleep.
When I woke, I discovered that plane on the ground and thought to myself "this has been the best journey ever". I looked up to see Ajay Patel from the Casa Del Habana standing over me and I heard an announcement "sorry for the delay to your flight, this is due to an oil spill on the runway. We will be taking off in 15 minutes".
As it's well-known, everything in Cuba runs to Cuban time and on this occasion even the flights ran to Cuban time. On arrival I was immediately suspicious; the process was far too straightforward with  immigration relatively normal. Retrieving our luggage however took a record breaking 2.5 hours.
I left Stuart Fox, Ajay and many others waiting at baggage reclaim and headed out into the warm Havana air.
Outside to greet me is the wonderful Magali de la Cruz in a magnificent 1957 Chevrolet Bel air along with a driver Fidel Castro (not the real Fidel Castro, but that really was his name!).
It is now 10pm and I have just realised I may well miss the welcome drinks party and hoyo deluxe I had tickets for.
Upon arrival at the Hotel Nacional I noticed no refurbishment works had taken place since my last visit. I headed to the executive sixth floor to find I along with all the other Hunters and Frankau visitors had been bumped off sixth floor to make room for the US Secret Service team, in town to prepare for President Obama's upcoming trip.
When I finally got to my room I noticed in true Cuban style the phone wasn't working properly and Wi-Fi was on the blink. I'm not sure if the Cubans were intercepting the Americans or if the Americans were intercepting the Cubans intercepting the Americans.
All I know is the Wi-Fi wouldn't connect, and so with that in mind I did what most sensible travellers would do and headed to the hotel terrace for a smoke.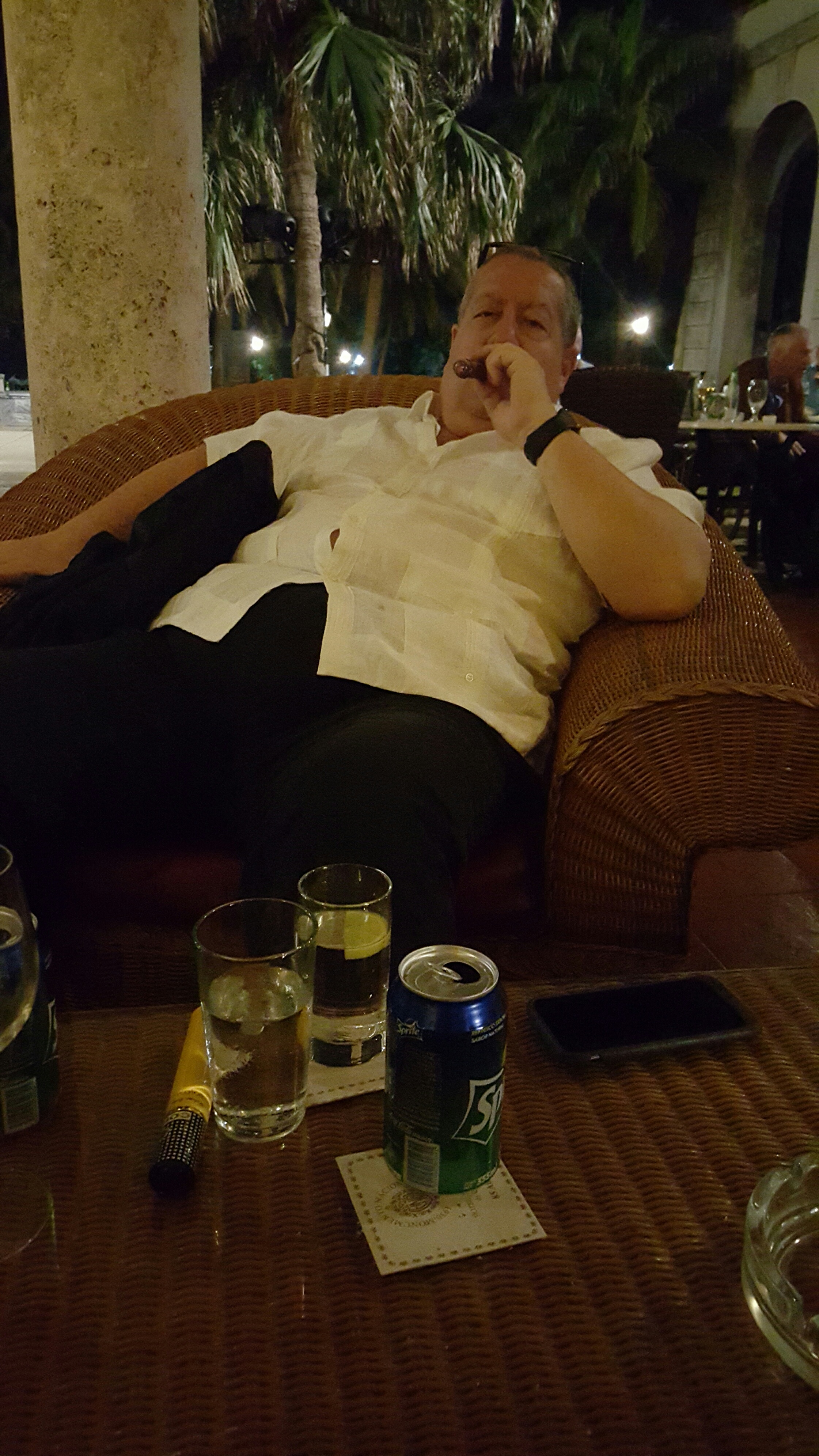 Nacional Terrace
I lit up a Cohiba piramides and rapidly downed 2 mojitos and before I knew it I was in the Cuban vibe.
Sean Croley of Hunters and Frankau invited me to have lunch with him and 42 others at the ranch. Battling jetlag I decide to explore old Havana to buy some trinkets and make it back just in time for lunch. I was presented with the most beautiful cigar, the new 2016 Regional edition Juan Lopez.
Believe me it is superb!
We will be uploading a YouTube video in a few days reviewing this cigar.
The rest of the day was fairly quiet but the evening definitely made up for it.
Our good friend Albert Stagnetto from Gibraltar along with the most trusted pilot there is Keith Rowson threw an amazing party at their villa and boy what a party that was!!
Albert very kindly gave me one my favourite cigar of all time, the 2009 Montecristo Sublime.
The rest of the evening was spent discussing Cuban politics and the poor harvests with fellow party goers.
More cigar shops, more artefacts and I even managed to find some Behikes and also three boxes of Upman no.2 reserve. Things were looking up!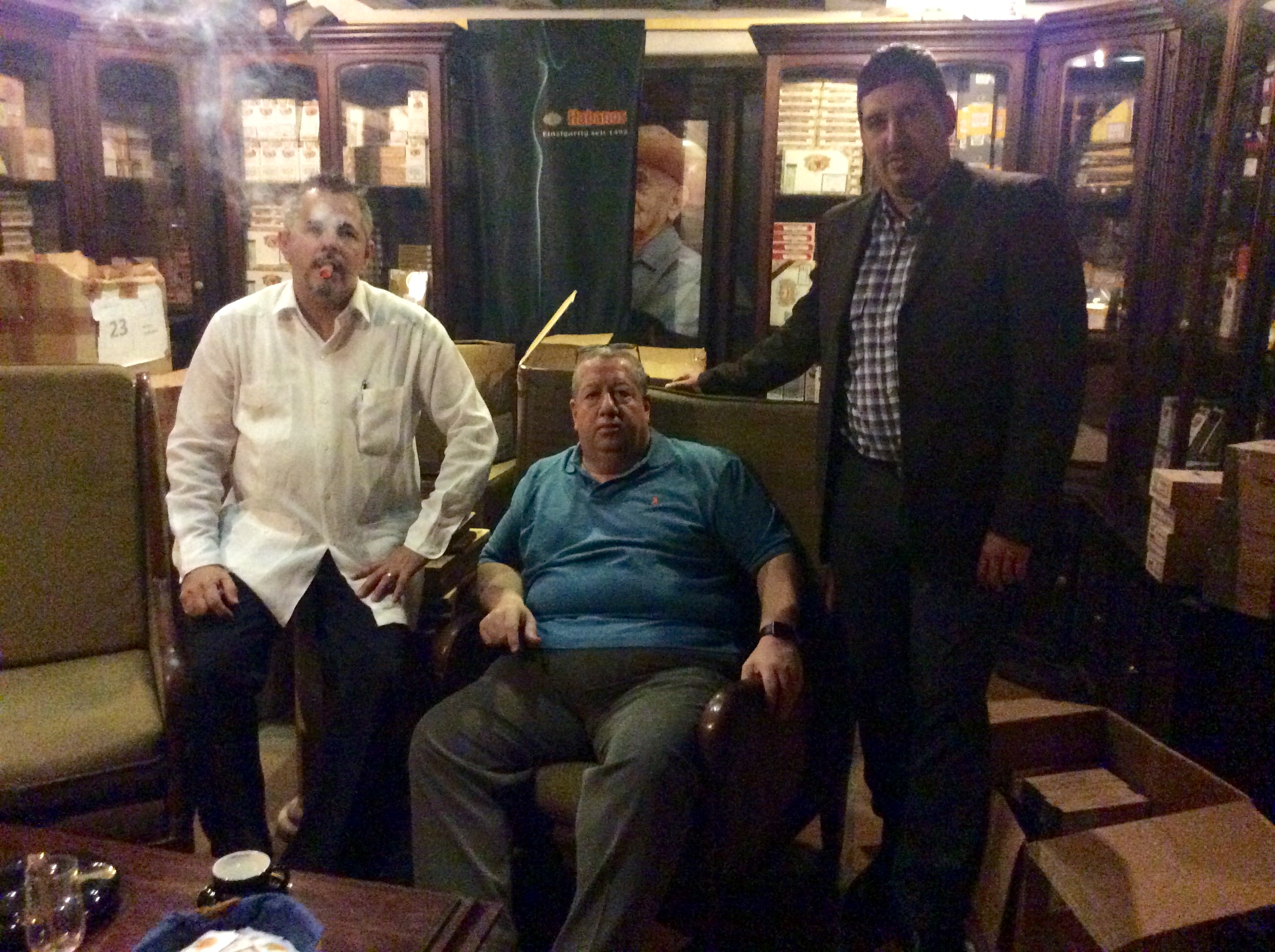 Condes de Villa Nueva
Fidel Castro (our driver again, not the real Fidel Castro) took Magali and I for lunch at Santi. Santi is the most amazing restaurant located around 15 minutes past the Miramar down a tiny dirt track where it meets a cul de sac.
You head down an alley and it reminds you of something out of a movie on condemned housing.
We arrived at the video entry front door and head up to the first floor which overlooks the river.
From my table I can see the Santi boats pulling up and offloading today's catch of fresh fish.
In no time at all I'm eating the best sashimi, tuna, tuna serviche, flying clams, tiger prawns and suddenly out comes the most glorious lobsters.
What a meal!!!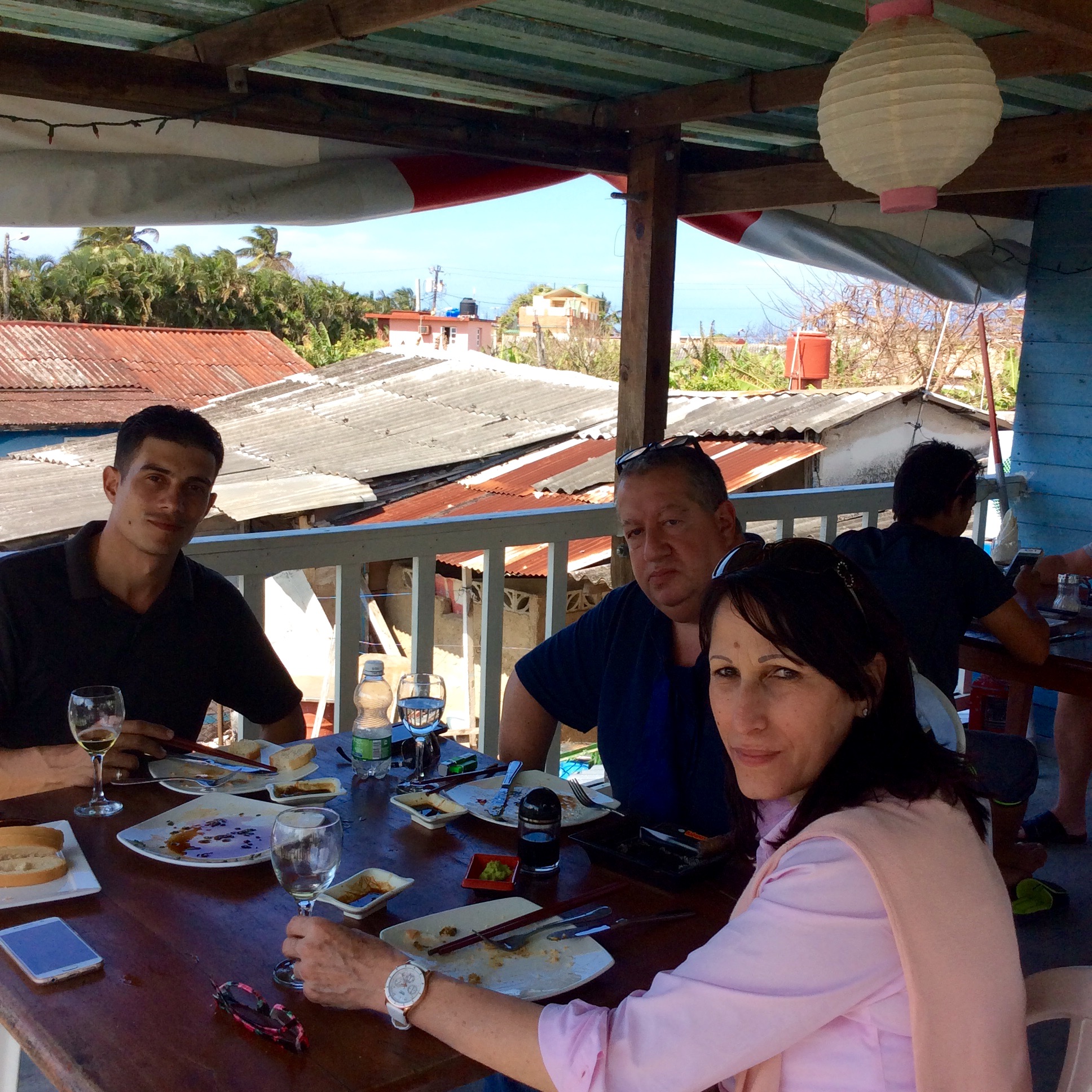 Lunch
Having consumed 3lbs of raw fish and about 6lbs of cooked fish I am well prepared for the evenings Cuabas aged cigar rollers dinner; the Wednesdays night special.
Cuban banqueting is never good and this evening's dinner did not disappoint.
The dinner was held at the Laguito farm with fantastic exhibition space where we enjoyed 16 different singers and bands each trying to be a little louder than the performer before.
An ensemble of over designed food arrived that couldn't suit the palette of anyone still alive!!
I took to the outside terrace to smoke a cuaba piramides, a salomon cigar and was given a 2016 limited edition Trinidad cigar to take away.
The conversation was superb on the terrace with Sean Croley, Stuart Fox, Manu and the lovely Adera.
From there it was back to the smoking terrace at the Hotel Nacional which was full of familiar faces.
Ranald Mc Donald of Boisdales was there with his usual group of cigar and alcohol aficionados. A great night spent with Toby Brocklehurst, Joel and Havana's own jewellery designer John de Costa.
THURSDAY

– a hell of a day
Thursday was a day of working; going around factories and cigar shops. Then on to the party of the week at John De Costas's house where Stefan von Schilling was staying.
Another fabulous party!!!
The normal crew attending including Mr Nakamura, Joel and fifty other cigar aficionados all smoking Partagas Series D no.4s kindly provided by John de Costa all beautifully lit with Justin Seldis' cigar traveller lighter.
We headed from there to Mele Havana where met old friends Hooman, Valero and friends from Canada and Australia all in full Cuban festival spirit.
As always we were invited to the Melia Havana Celebration of Cuban cigars to celebrate 50 years of rolled cigars by the wonderful Yolanda.
In true Cuban style the 6:30pm start was delayed and after struggling with the heat and onslaught of mojitos, Yolanda finally took to the stage at 8:30pm to much cheering and applause.
Yolanda confirmed to a sadden crowd that she would be retiring from rolling cigars after the festival.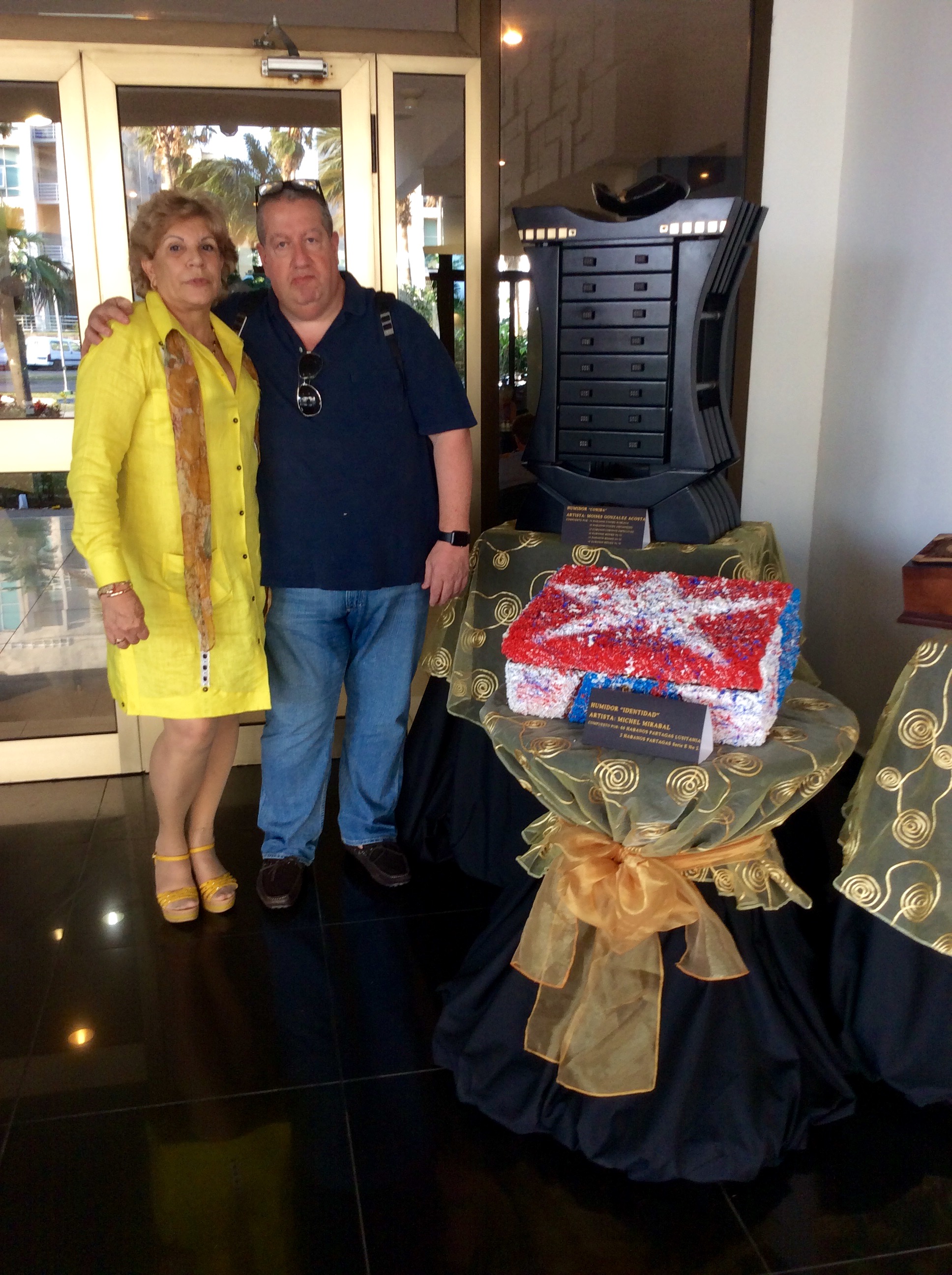 Melia Havana
It was now time to go to bed. Drinking all day and proudly finishing my 15th cigar of the day I made my way back to Hotel Nacional. Upon arrival I found out my friend from Qatar, Hassan was in town.
The whole of the terrace was full to maximum capacity but somehow Hassan had his own private section to which he invited Magali and I to join him.
Two bottles of rum later and as 3am approached I used my hands and knees to drag myself to my room (only to find Stuart Fox at reception on his way out for yet another night of partying).
Friday morning was very revealing.
Rumours were buzzing that a great new video from the Wednesday night Laguito party was being circulated. We've all seen the Michael Jackson thriller video but at the Habanos festival was Sean Croley from Hunters and Frankau dancing like a ninja turtle on steroids known now as the "Sean shuffle". Somehow I don't think he will make it to Britain's Got Talent.
We tried Rio Mar for lunch. A spectacular restaurant on the water opposite the Malacon.
We consumed heavenly octopus and delicious lobster.
Magali and I were guests of Hassan and Arsene and in style we had six courses because, well it was Friday and the festival banquet dinner was that evening.
Everyone knows that if you do not eat before a festival dinner, you do not eat at all!!
The Hunters and Frankau transportation was ready and waiting at 6:30pm but I know these things never run to time so Hassan gave me a driver and so Magali and I made our way at 8pm only to find a 50 yard queue still filtering through.
This year I was lucky enough to be one of the only people from the UK nominated for the Hombre de Habana award. The dinner was very similar to those gone by. Six overdesigned courses with great ingredients all totally and utterly inedible.
I sat with Albert Stagnetto and Hiroshi Robaina and we all had a great night drinking and celebrating the wonders of 50 years of Cohiba.
We had a feast of cigars this evening. We smoked a Muduro 5 followed by Rubostos and the new Cohiba was launched; the Medio Siglo.
We also smoked Behike 54's and Cohiba Siglo 6's before being given a box of two Cohiba anniversary cigars the amazing Cohiba Majestosos.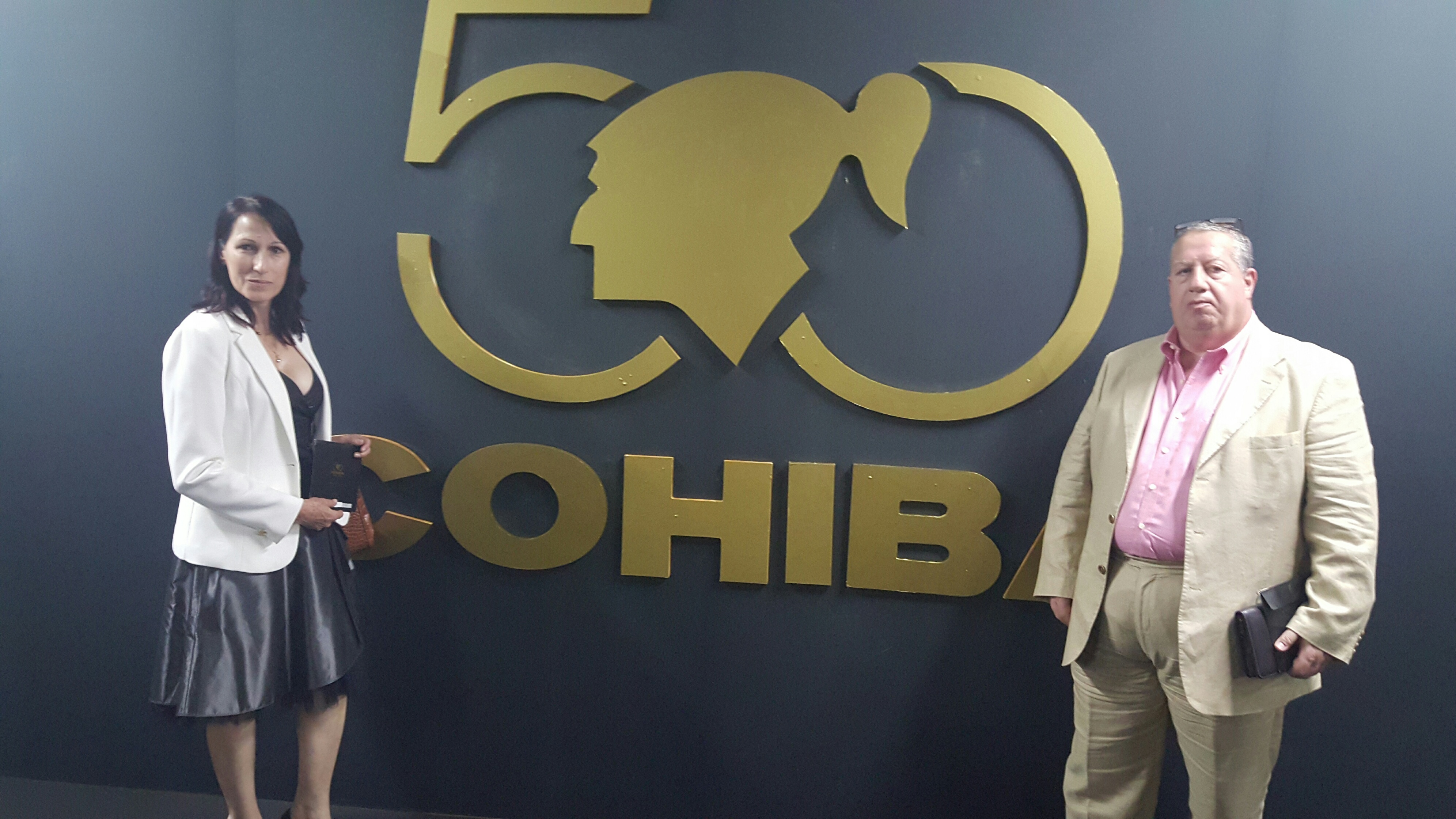 Gala Dinner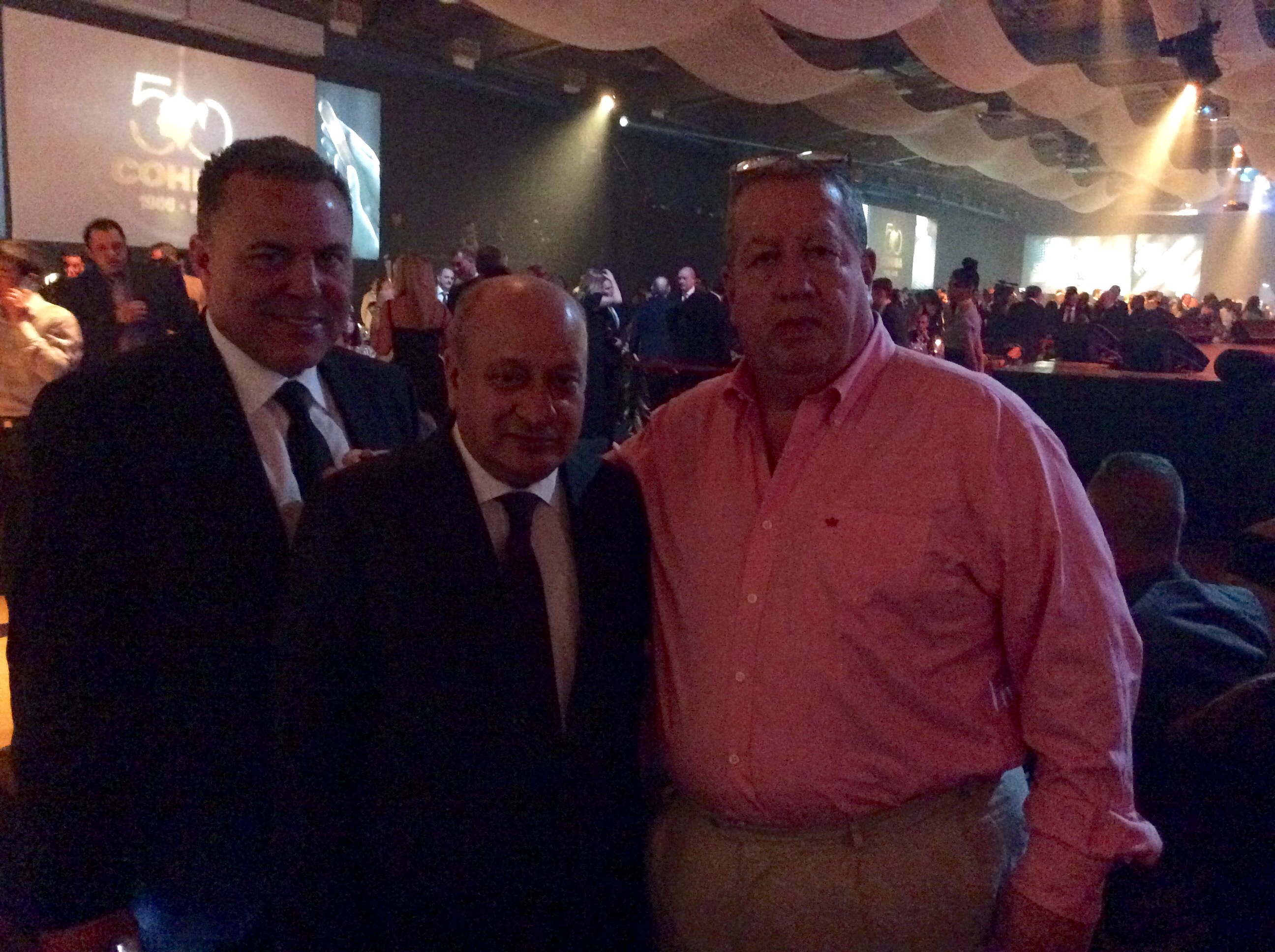 Gala Dinner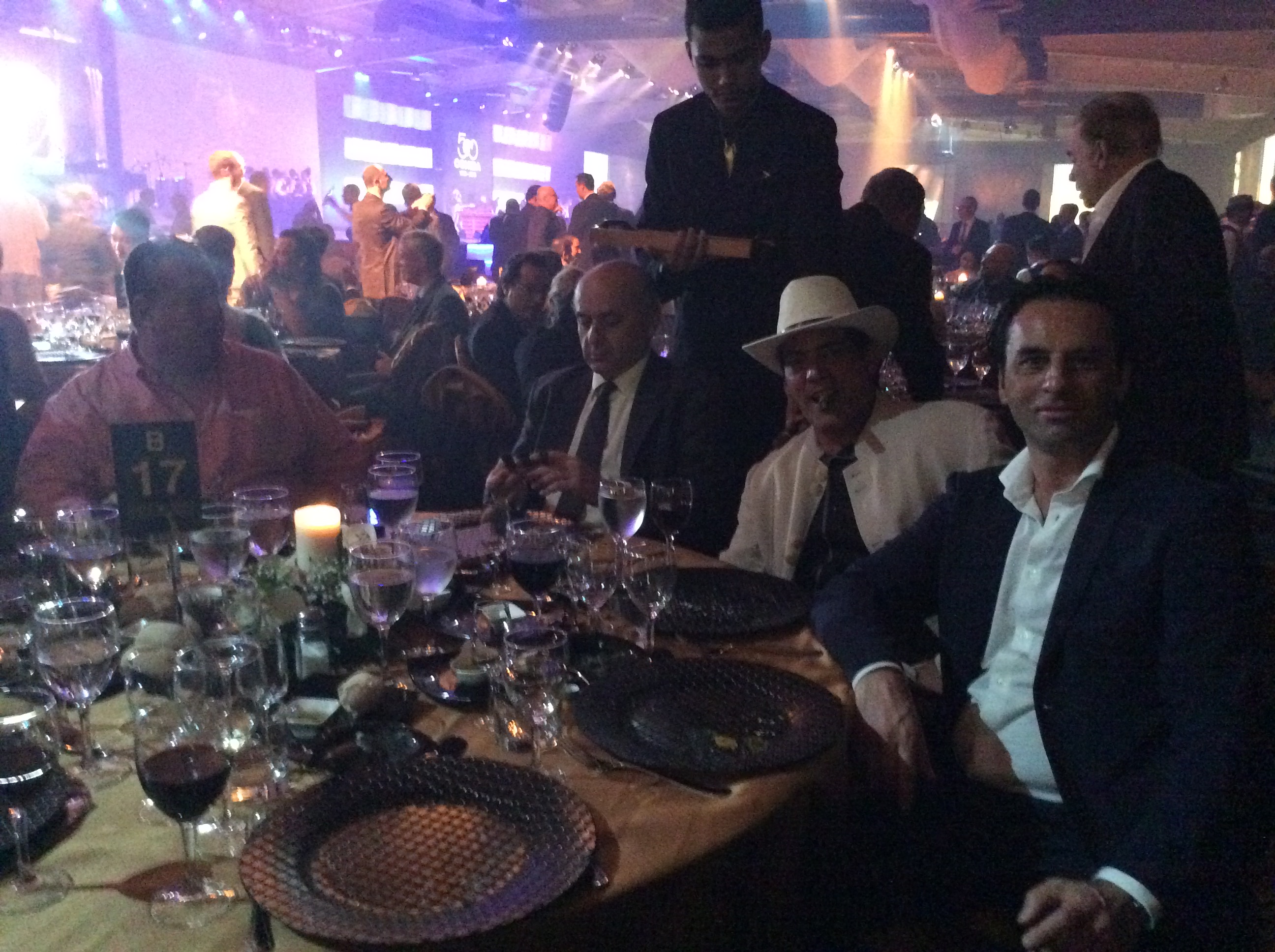 Gala Dinner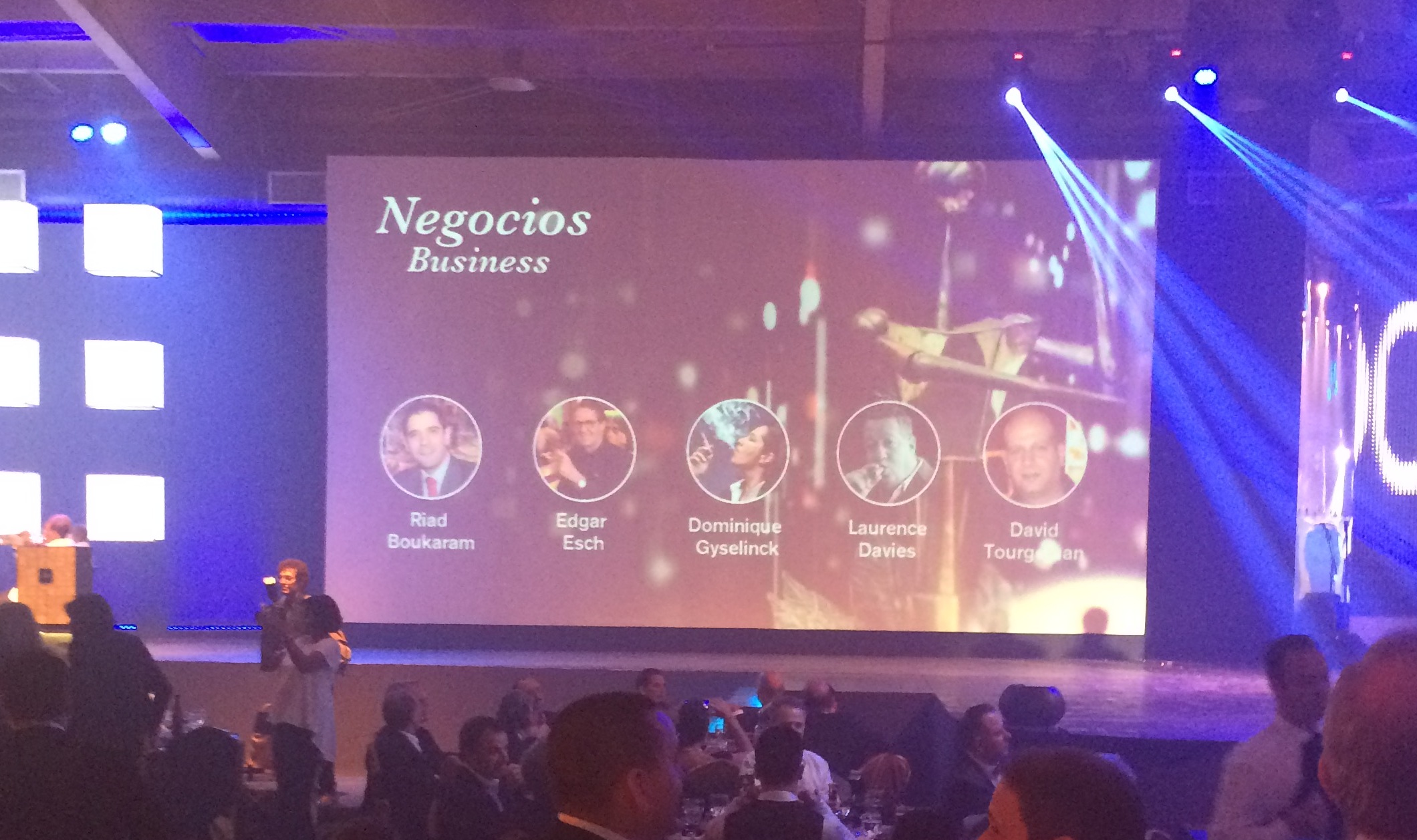 Gala Dinner Nominations
At 1:30am we left having experienced the most painful auction ever.  Seven lots that took two and a half hours to sell. Which followed the entertainment,  sixteen acts all excellent and had an array of amazing talent but so incredibly loud.
Luckily for me as I left my driver was waiting right outside.
As we drove off I could see all the Hunters and Frankau searching for their coach.
I later found out they spent the next hour thumbing lifts and jumping cabs as the coach never showed.
I woke up early on Saturday and on my way to breakfast the internet connection kicked in.
Up on my phone pinged an Instagram photo of Stuart Fox drinking on the Malecon.
Three whole nights of partying!!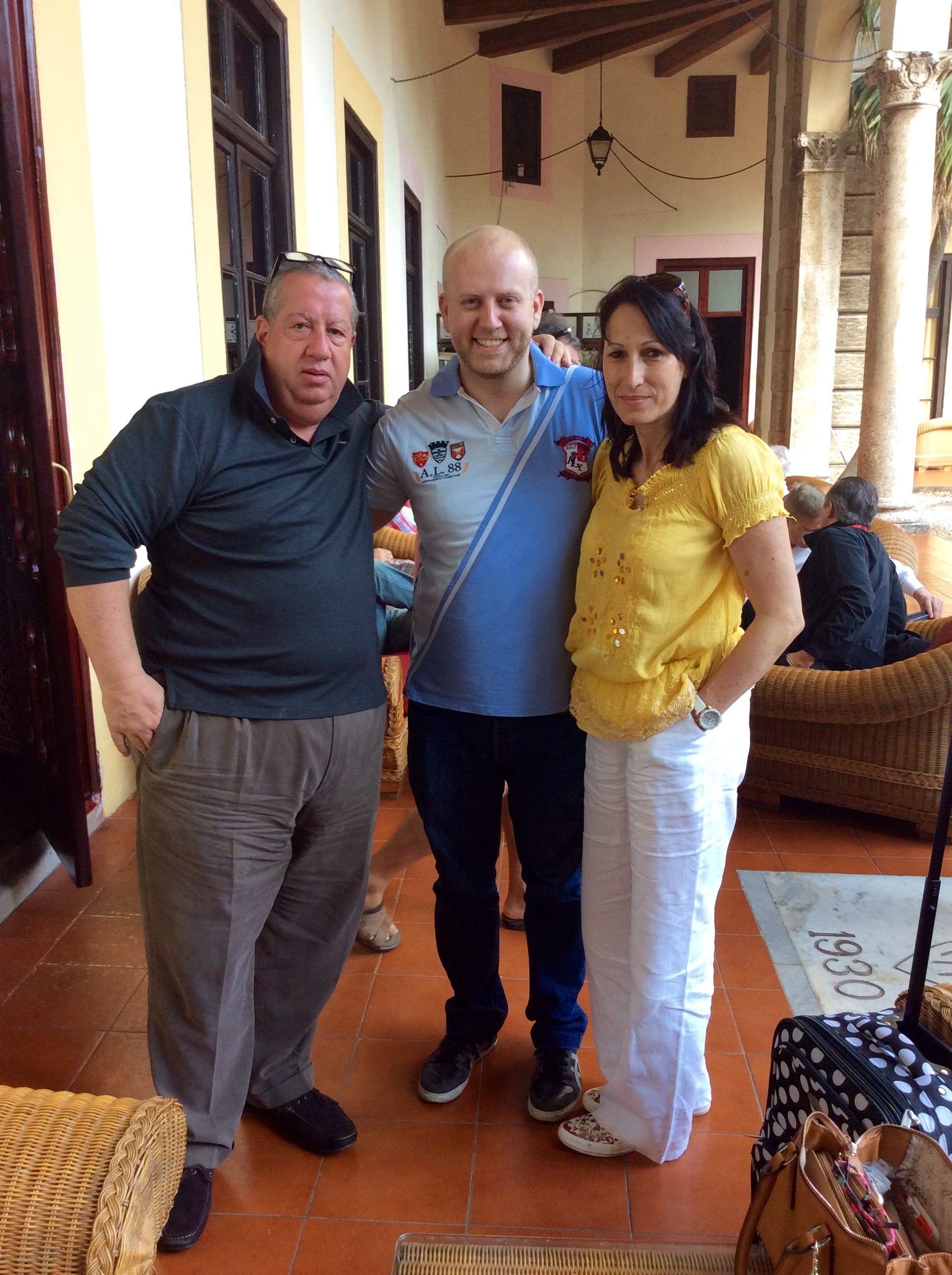 Nacional Terrace
At lunchtime Magali and I organised to take all the rollers who had come to our Mount street shop out for lunch. We took Ametti, Amardo, Joel and others to the El Ajibe and had a great time discussing the memorable baseball game in which my shoelaces got caught and I took 3 cracked ribs for the team!!
Another Stagnetto party was arranged for that evening at his villa and we had an early night as we had an exciting day lined up for us the next day.
Adera, Massimo, Magali and I all had an early breakfast and headed for the countryside for a day out in Piner Del Rio with Hassan and Arsene.
After driving for an hour and a half we stopped off for a fresh coconut and then continued with our journey.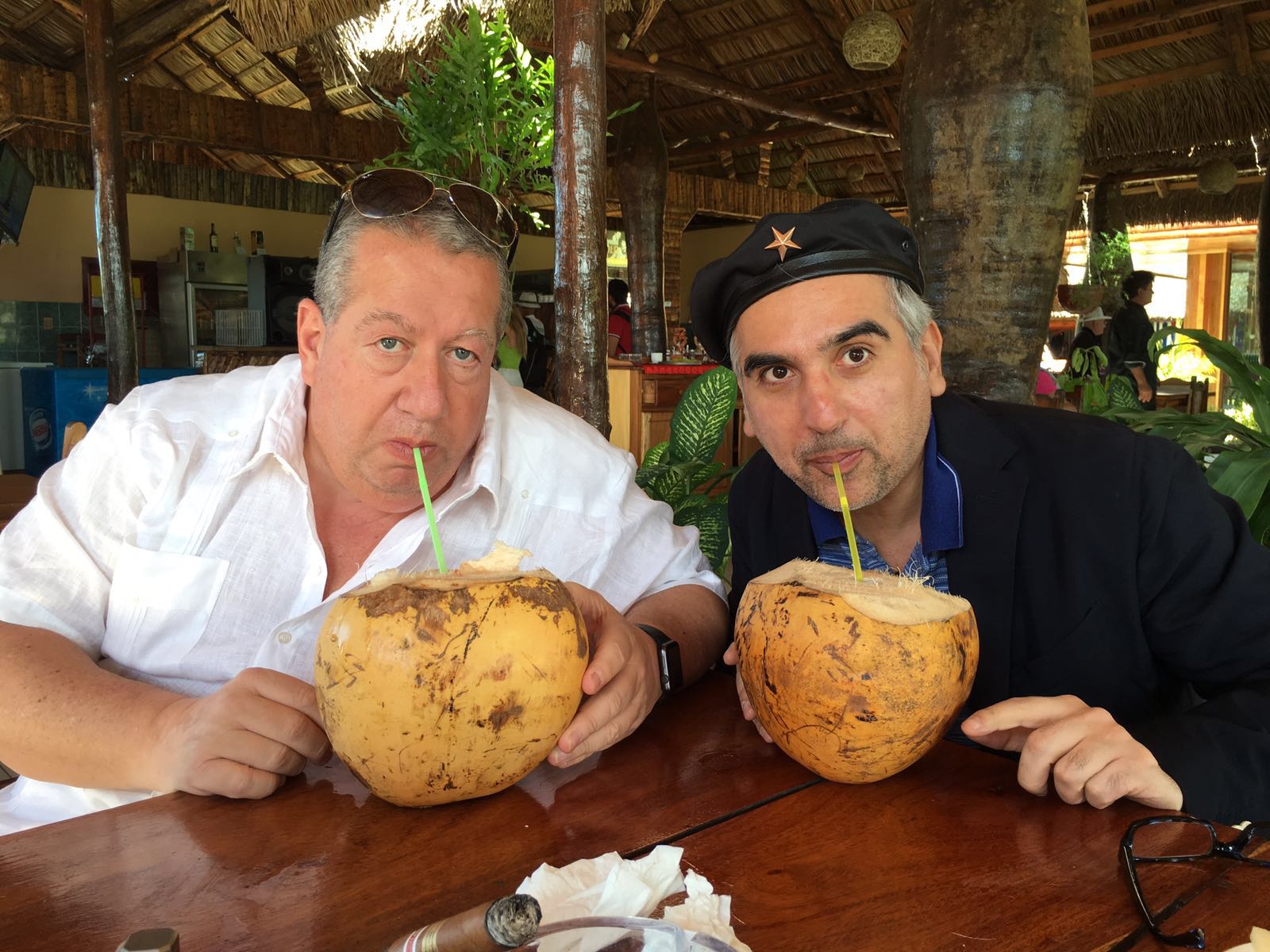 Coconuts
We arrived at the Robaina farm and Hiroshi was there to greet with the most unbelievable hospitality. We were given a tour of the entire estate and visited the museum of the legend Alejandro Robaina.
Lunch was amazing. Fresh chicken (and I mean fresh, I met his brothers and sisters on the way in), along with beans vegetables and all grown on the neighbouring plantation including the delicious coffee.
They then announced the Hiroshi beast; a cigar he rolled and tempted to me. After 3 hours of solid smoking I had mastered the Hiroshi beast!
We then took a look around the drying house.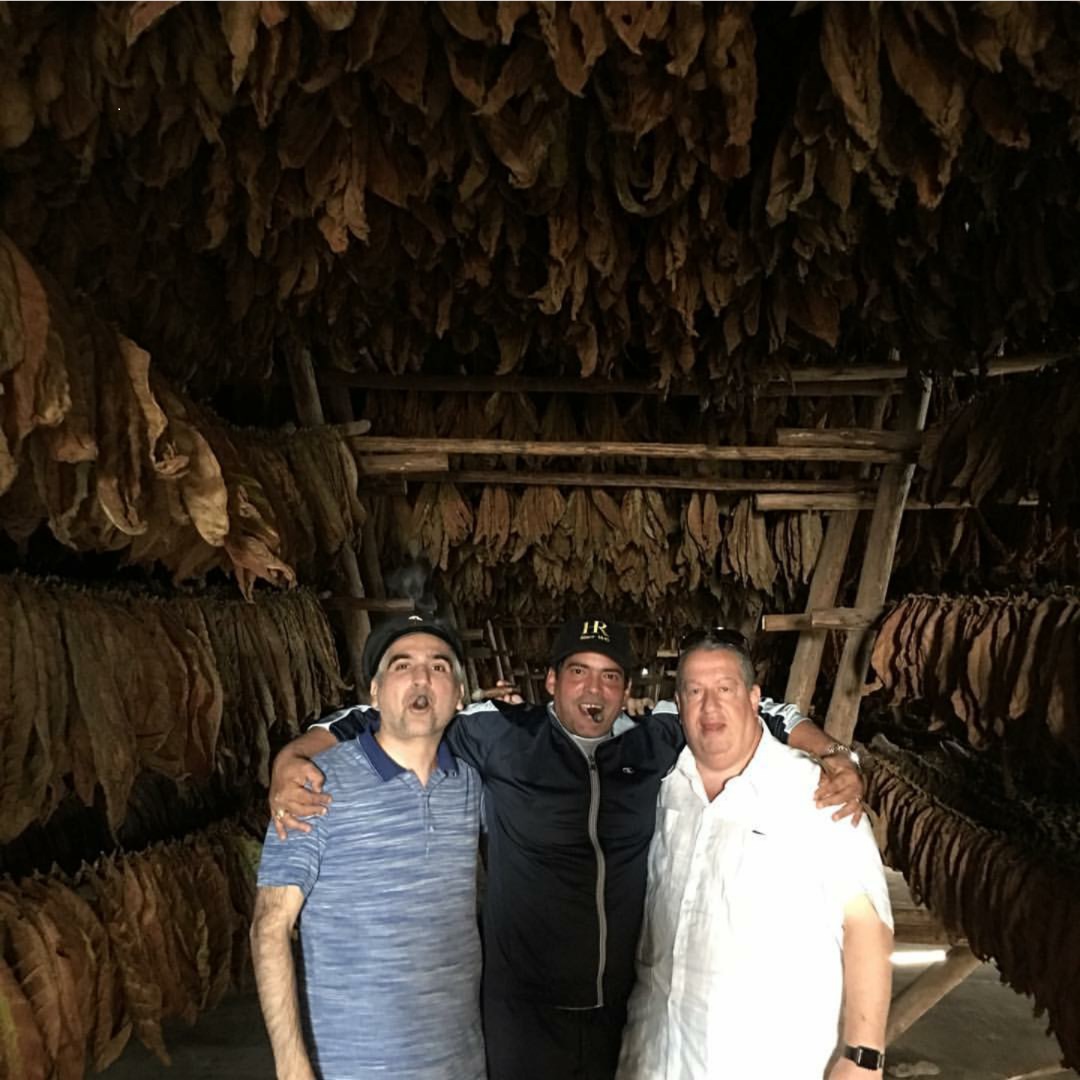 Robaina Farm
Hiroshi really does grow the best tobacco leaves in Cuba and as you can see on the photos there was some 2 million cigars worth of leaf. The only place with a good wrapper and so perhaps not all is lost for next year.
It was now 6:45pm. The dark air had come in and I was challenged to another smoke.
Without doubt, our best day in Cuba. We arrived back in Havana and Hassan suggested dinner at Rio Mar and it was just as good as it was at lunch on Friday.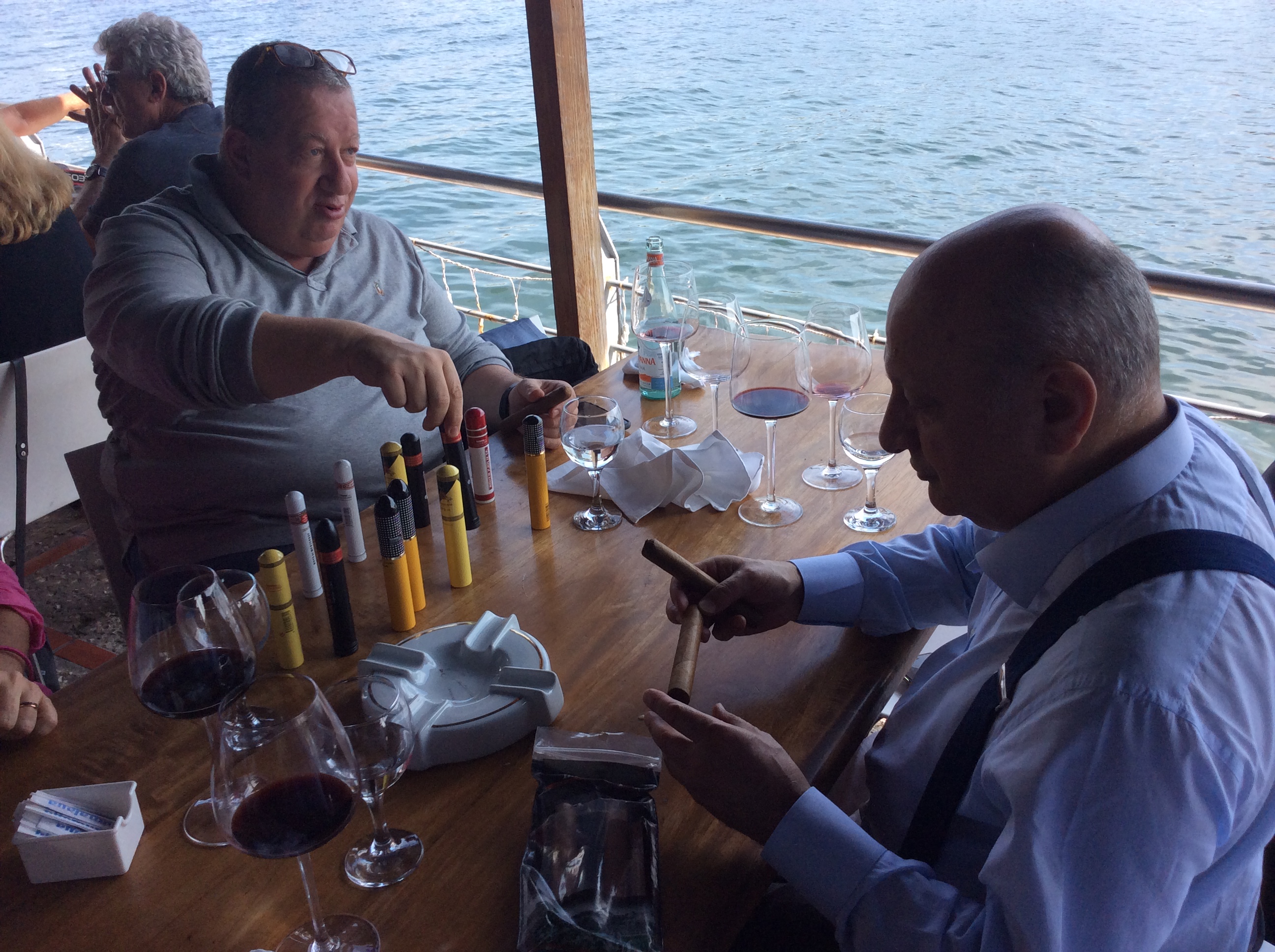 Lunch at Santi
We met a number of manufacturers to discuss starting work on the humidors for our upcoming 60th anniversary at Sautters.
I decided to go to the airport with Sean Croley who insisted we leave 5 hours in advance. I managed to convince him to leave just 3 hours in advance. As we arrived at the airport a text from Jemma Freeman came through asking what time she should leave as she was still by the pool.
Its surprisingly how smooth things can be when you leave 3 hours before you fly. The Virgin lounge held 18 seats, 16 of which were smokers.
As I boarded the plane to leave Cuba, the sad feeling that my 15 cigars, 2 bottles of rum and seafood galore daily diet was about to come to an end.