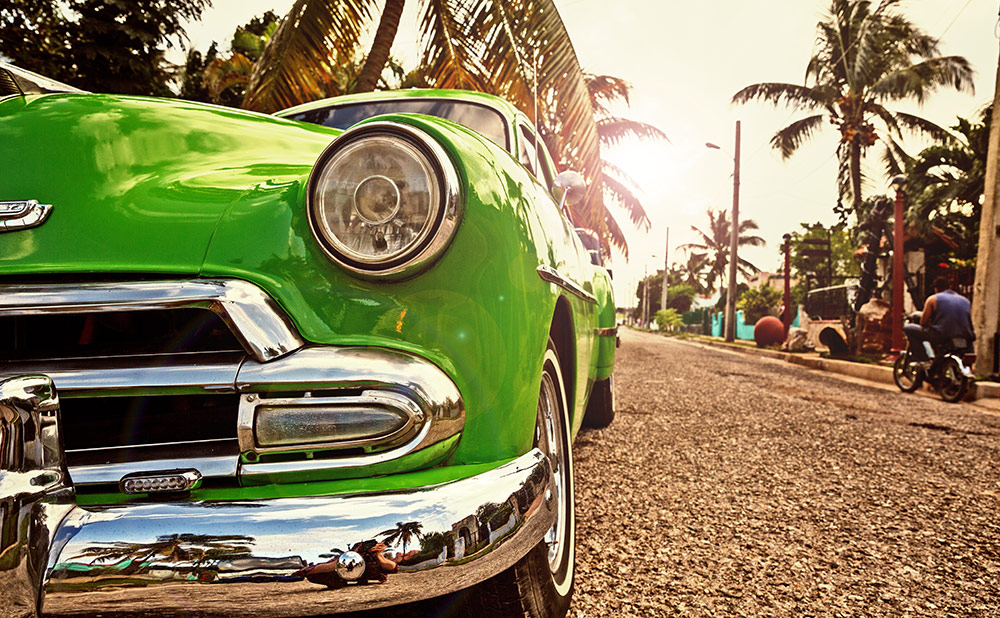 Sautter in Cuba
Cuba grows while you watch it.
Everywhere you look, thick, green, verdant undergrowth; perhaps a rich slash of vermillion as a riot of flowers reaches for the sky.
Tobacco is no different.
Today, as the Sautter convoy powers steadily into the heart of Cuba's tobacco land, fields of gently rustling tobacco leaves begin to appear from the ancient, ochre soil.
This is where the world's best cigar tobacco is grown. This shallow basin of land, steeped in minerals which impart the unparalleled flavours cigar lovers have clamoured for for centuries, remains barely feathered by the hands of time.
Great oxen bulls stand wearily tethered by the roadside, occasionally tossing a deadly horn in the glowering heat of another timeless Cuban afternoon. Farm labourers hang out an arm for a passing hitchhike; vehicles of every construction and hue fight for road space on the long, scarred, uneven stretches of rock that pass for major roads here.
We're in farming land. Here, people live off the chickens, the beans, the rice, the coffee they can grow themselves. They may be poor, but as we say, they are blessed with Cuba's fecundity. Everything grows while you watch it.
Tobacco harvest is late this year. It's because of weather and it's because of lack of resource. The truth on the ground is that Cuba is having a tough time of things. To put it mildly, money is tight. The 'unseen' foreign investment is at an all time low. The days of plentiful handouts from a motherland Russia with an agenda are in the dim and distant past.
The tobacco farmers have little diesel to power their ancient Soviet tractors; precious few pesos to give those labourers who toil in the dust at the coal face of this multi-million dollar, luxury market sector.
Hirochi Robaina is perhaps better placed then most. His legendary finca – once the home of the late, great Alejandro Robaina, perhaps the greatest cigar man of all time, and now home to Hirochi and his young family – still grows the finest leaves the island can offer.
Hirochi is known worldwide, his face among the cigar celebrities that have graced the industry magazines and won the grateful handshakes of beaming cigar pilgrims from across the seven seas.
Today, Laurence Sautter, accompanied by writer and author Nick Hammond, are spending the afternoon with Hirochi and his team, along with a crack film and photography unit to record the occasion for posterity.
Amid the scratching chickens and the sleeping dogs, there's an energy about this place that's hard to describe. It feels, simply, like the epicentre of the cigar making world.
Over a long lunch of rice, beans, homegrown chicken, incredible lobster from a distant seashore and plenty of laughter, we learn a little of what it's like to farm this beautiful, careworn land.
And we offer it to you. In a wide-ranging interview with Hirochi on the verandah of the home he once shared with his grandfather, Laurence and Nick find out what latest harvest is like; how the Cuban tobacco future might look – and the hopes and dreams of a Cuban family man determined to continue the proud family legacy that has defined his life.
Cigar access, insight, footage, photography and writing that you simply can't find anywhere else. Welcome to Sautter in Cuba.