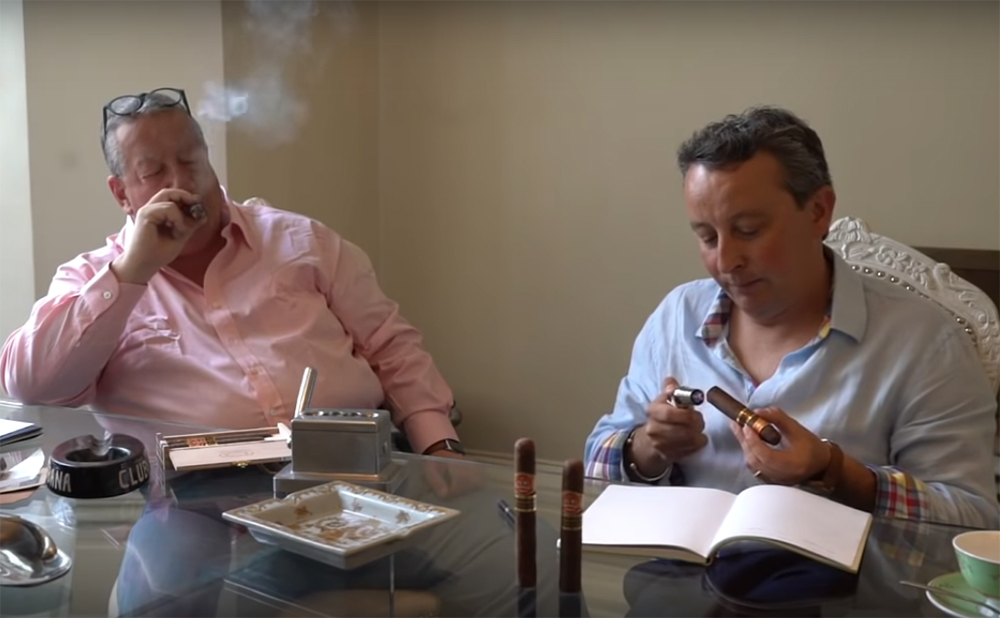 Video Nasties
It's not very British to blow your own trumpet.
In fact, it's frowned upon, although maybe not quite so much as it once was. Today, after all, is the age of boasting what you're up to on Instagram; having selfies with 'celebs'; humble bragging about your charity work; making sure the world knows what you had for breakfast on Facebook. It's enough to make one shudder.
So, in a spirit of modernism, please allow Sautter a moment to tell you about a new series of video reviews that have taken the Internet by storm (well, the cigar-related part of it, anyway).
In a bunch of newly-recorded video reviews, the maestro himself, El Jeffe, Laurence Davis, pits his wits and cigar-obsessed knowledge alongside our friend and world-renowned cigar writer, Nick Hammond.
A couple of reviews filmed by the pair were posted up for fun a few months ago and have already attracted in the tens of thousands of views. So, we lined up the camera man, fuelled his sound technician with coffee, finally managed to synchronise the two protagonists' diaries – and recorded a whole load more.
It was not for the faint-hearted. A non-stop herfathon ensued and the resulting videos – at times hilarious, revealing, enlightening and downright daft – are currently being made available via Sautter's YouTube channel. You can find it here.
A number of very interesting cigars are tasted and reviewed; the likes of the Partagas Maduro No.1 and No. 2 as well as a cheeky Montecristo Media Corona pack and an aged San Cristobal and a glorious Cohiba Gran Reserva are all featured in a glut of new shows coming your way.
As well, of course, as copious discussions on the merits or otherwise of a massive swathe of Cuban cigars, Laurence and Nick – two lovers of the good life, if ever there were – also discuss food, French wine, spirits, travel, last meals, and, er, cricket. In short, just the sort of meandering, smoke-filled, wonderfully free-range conversation you might have with a mate down the pub.*
*Trumpet-blowing warning here; our two video reviewers, while coming across as a friendly couple of chaps from your local, are not just pretty faces. They have a wealth of knowledge and experience to impart. That's why we got them together. Laurence Davis has steeped himself in the world of the Cuban cigar since buying Sautter of Mount Street from original owner Desmond Sautter in 2006. His knowledge of the Cuban compendium is astounding and he visits Cuba several times a year to meet friends and makers and smoke the latest sticks from the Caribbean island. Nick Hammond writes for clients around the world, particularly about cigars. He's visited plantations and factories in Cuba, Nicaragua and Dominican Republic, is a columnist for Cigar Journal magazine and won the inaugural Spectator Cigar Writer of The Year Award. He has just authored Cinco Decadas – a book recounting the story of Joya de Nicaragua, the oldest cigar factory in that country.
So, for once, we're loud and proud; these two are the Ginger Rogers and Fred Astaire of cigars; the Torville and Dean; the Tom and Jerry, the Cagney and Lacey – okay, you get the picture. Let us know what you think; we'd love your feedback on the new shows.
Pull up a pew, grab yourself a brew; light up a smoke and enjoy their company.
Lights, camera, action.