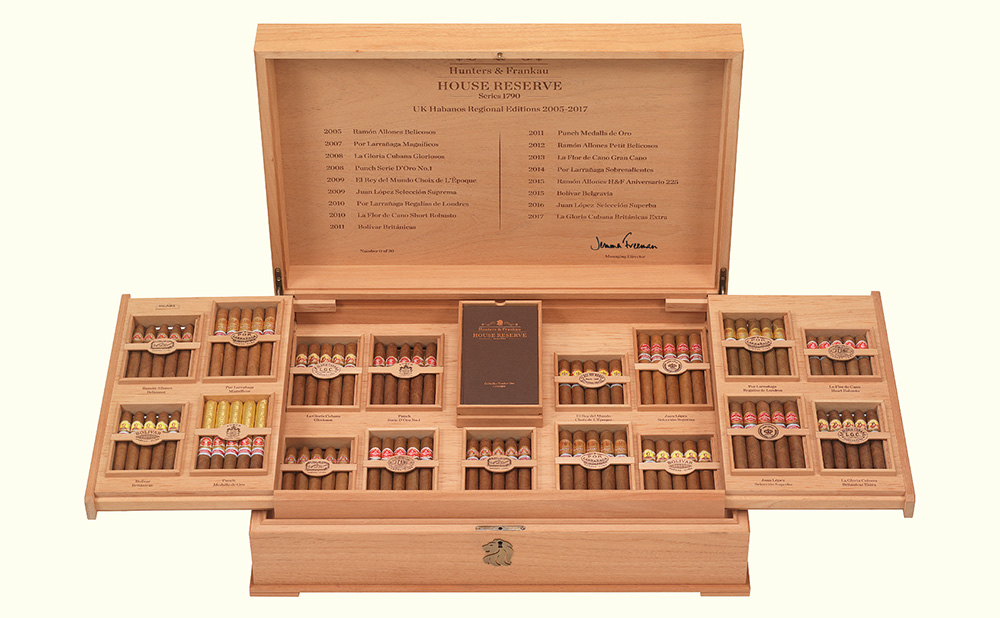 A Night to Remember
The sun didn't steal the show, but it sure tried its hardest.
In a dark corner of the Hyatt Regency Churchill hotel off London's Portman Square, sat the real star of the evening.
A monstrous humidor, jam-packed with 170 simply stunning Regional Edition cigars. Yours for just £58,800.
We're talking about Monday's gathering of the cigar clan's great and good to mark the release of not only the Hunters & Frankau Series 1790 Collection Number One humidor (snazzy title that); not even the additional news of a new series of potentially magnificent aged and rare boxes of cigars; but also the long-awaited regional release for 2018 – the El Rey del Mundo La Reina.
A number of things need explaining here. Firstly, for the uninitiated, Hunters & Frankau are the company solely responsible for importing Cuban cigars into the United Kingdom. Regional Editions are awarded to different nations in different years – a limited number of unusual cigars created specifically for that market at the behest of the importer. And the humidor we've mentioned above – that sits with its draws open to reveal the cigars in all their glory – is the most expensive of its kind yet put together by H&F. It includes examples of every UK Regional Edition to date.
Back to La Reina. This is a cigar connoisseur's fantasy (although perhaps not Laurence Davis'). It's an elegant Laguito No.1 – a prestigious and pencil thin cigar size that oozes sophistication. In these days of ever fatter cigars, a hark back to a more refined time is long overdue.
Stocks of the La Reina – meaning The Queen – are very limited. But Sautter has nonetheless secured a healthy batch, so our advice to you is simple. Drop in, tune out, try one. Then grab a box and lay them down. At the very least you'll have a truly superlative cigar to smoke over the next few years (we'd recommend you lay it down for three years, then try again). And as an added bonus, should you then decide to cash in, your cigars will almost certainly be worth more than you paid for them.
Of course, all the usual boring legalese applies; your investment can go down as well as up, blah blah blah. But cigars are way more fun than hedge funds anyway.
So, on Monday, we joined the generous throng from H&F and guzzled rum cocktails, Champagne, neat rum and finally some of us ended on the beer. And we smoked and enjoyed La Reina. And we enjoyed seeing old friends and reacquainting with some new ones. High Summer in a sweltering London; Wimbledon upon us, our cricketers riding high. And a whole host of lovely new cigar goodies to sink our teeth into and feast our eyes upon.
What a time to be alive.