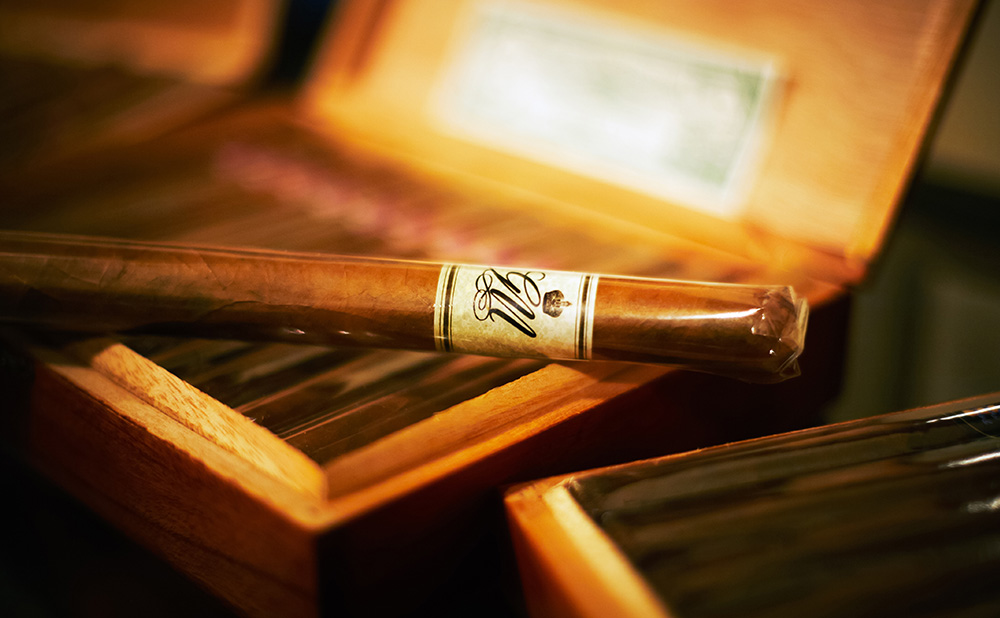 Dinner is Served
Have you ever been to a cigar dinner?
They pop up every now and then and are, in general, an opportunity to be leapt upon as the wolf falls upon the lamb.
The chance to gather with an intimate number of like-minded folk and indulge in an orgy of the senses is something to be savoured. These affairs – usually put together at hotels or restaurants with warm, comfortable smoking terraces that can be reconfigured for a full-blown, sit down meal – offer the sort of memory you'll treasure during the long, dark watches of the night.
The thing is, you see, at the best of these affairs, you can smoke – before, during and after, if you so desire. There are variations on this theme – a glass of fizz with an aperitif cigar, retiring to eat then a more full-blooded offering post dining – but if you can, winkle out the all-out extravaganza.
This will begin with libations and a light smoke to set the scene. Champagne and a Por Larranaga is a personal favourite combination. A delicate little Hoyo De Monterrey du Maire is also a fine choice (although don't expect to find El Jeffe, Laurence Davis, partaking in this dainty little cigar; he regards such fare as 'toothpicks').
Then, once the introductions are made and the chatting is underway, you can make your way to a beautifully laid and presented table; candles guttering, glasses cascading light and shade from your wine choice. Is there anything more heart-warming than a well-laid, well-lit dinner table?
This is where the decadence settles upon you. For your waiter or waitress will be making sure that alongside your entrée, a cigar ashtray is judicially placed. Not only will you enjoy the always delightful experience of having a carefully crafted meal cooked specifically for you – you can smoke along with it too.
The best cigar dinners are set out with this in mind, of course, and the chef, wine and cigar sommeliers will have sat down to several tense meetings about what is served and how and with what. The idea, if they craft their arts to perfection, is to offer a combination of food, wine and cigar where each compliments the other without competing. It's not easy, but it is possible, and good examples of it can be nothing short of revelatory.
Allow yourself the freedom to sit back and watch the table several times during this glorious evening. The loud chatter, the laughter, the bright eyes, the love for the kitchen, the garden, the vineyard, the plantation. These are special moments to be treasured; our Grandfathers gave their service and maybe their life so that we may enjoy such moments. We should not allow a new raft of hate and fear destroy what they suffered for.
The main meal and after dinner digestifs often call for an aged and portentous smoke. Think the time to smoke Churchills and Double Coronas, vintage classics, the good stuff in the humidor.
And after a long and luxurious night, bid farewell to your fellow diners and restore yourself to a deep, peaceful sleep. All is well with the world.
Maybe it's time for a Sautter Cigar Dinner extravaganza. We'll speak to El Jeffe.